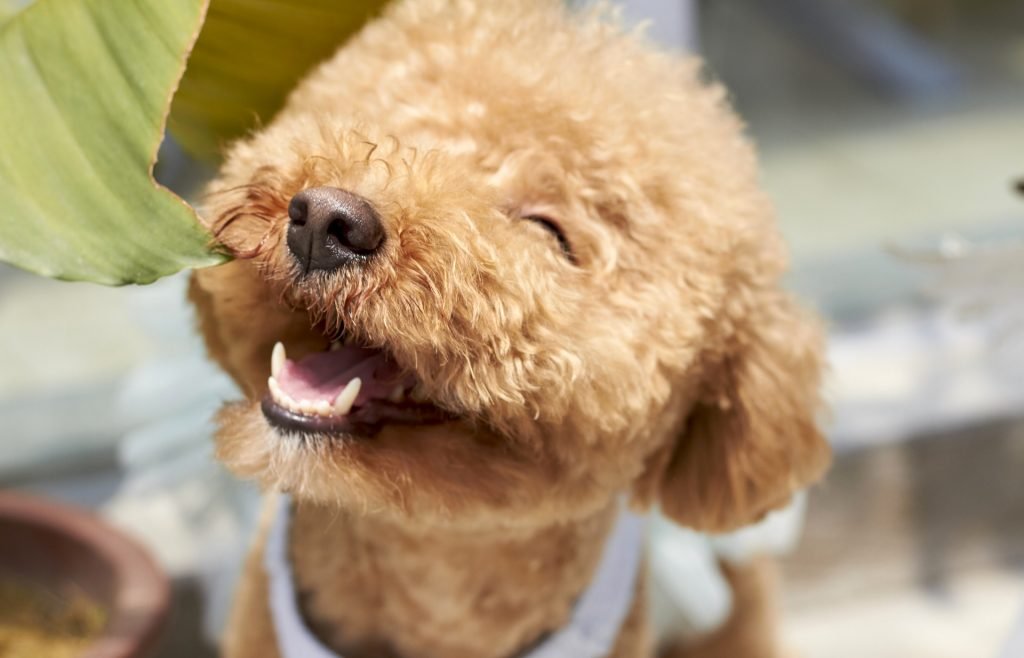 In case you missed it, February was UK Pet Dental Health Month.

You might not realise, but your dog's teeth are more important that you might think.
Now not many of us enjoy a visit to the dentist, but like humans, dogs benefit hugely from maintaining good oral hygiene.

Here, we outline our top tips for maintaining a healthy canine mouth and the importance of keeping your dog's teeth clean.
Why should I brush my dog's teeth?
Dogs can also suffer from a wide range of oral health problems, just like us, so it's important to keep on top of regular teeth cleaning.

Cleaning your pooches' pearly whites regularly is the best way to prevent the onset of oral health problems.
Find out more about our teeth cleaning service here.
The benefits of teeth cleaning
Keeping your dog's teeth cleaned on a regular basis has many health benefits, including:
Prevents the development of oral health problems
Lowers the risk of gum disease
Kills bacteria on the teeth, gums and gum pockets
Promotes wound healing and regeneration
Prevents dental disease
Stops food particles developing into plaque and tartar
Prevents foul smells/breath
Keeping on top of your dog's dental health and maintaining good oral hygiene should be a big part of their life, just like yours.
How can I maintain my dog's healthy teeth?
Regular brushing will not only help to keep your dog's mouth clean and healthy, but by taking preventative action you could also save money in the long run. Investing in good quality dog toothpaste could prevent the need for big vets' bills or costly dental procedures down the line.

Brushing your dog's teeth should be part of their regular grooming routine.

We recommend the following advice to keep on top of your dog's dental routine:
Advice: Ask your vet for advice on jaw alignment, where your dog's teeth meet and the best way to approach teeth cleaning for their specific breed.
Introduce teeth cleaning: Gradually introduce teeth cleaning when they are a puppy to get them used to the process.
Regular brushing: For the best results, brush their teeth every day – the cleaner they are, the lower the chance of nasty dental disease developing.
The right products: Buy a dog toothpaste – human toothpaste brands are NOT suitable.
Dental chew and treats: These are a great way to keep your pooch entertained and maintaining good oral health.
Teeth cleaning services at Barks 'n Bubbles
Here at Barks 'n Bubbles, we know all about the importance of keeping on top of your dog's oral health. It is crucial that your dog's teeth are well maintained and regularly brushed, just like their coat.

As teeth cleaning specialists, we have the advanced Ultrasonic teeth cleaning technology on our premises that can deliver a painless and effective treatment, reaching areas in the dog's mouth that would be tricky with a manual toothbrush at home.

There is no vibration and no need for anaesthetic, making the entire experience pain-free for our furry friends.

Our treatment not only removes plaque and tartar build up over time, but it kills pathogenic bacteria on the gums, teeth and gum pockets, reducing the risk of dental disease.

Discover more about our teeth cleaning services here.
Find out more
To book your initial teeth cleaning appointment or to find out more about our advanced teeth cleaning services, contact us today.

We'll be more than happy to describe our teeth cleaning treatment in more detail and to offer you teeth cleaning advice.